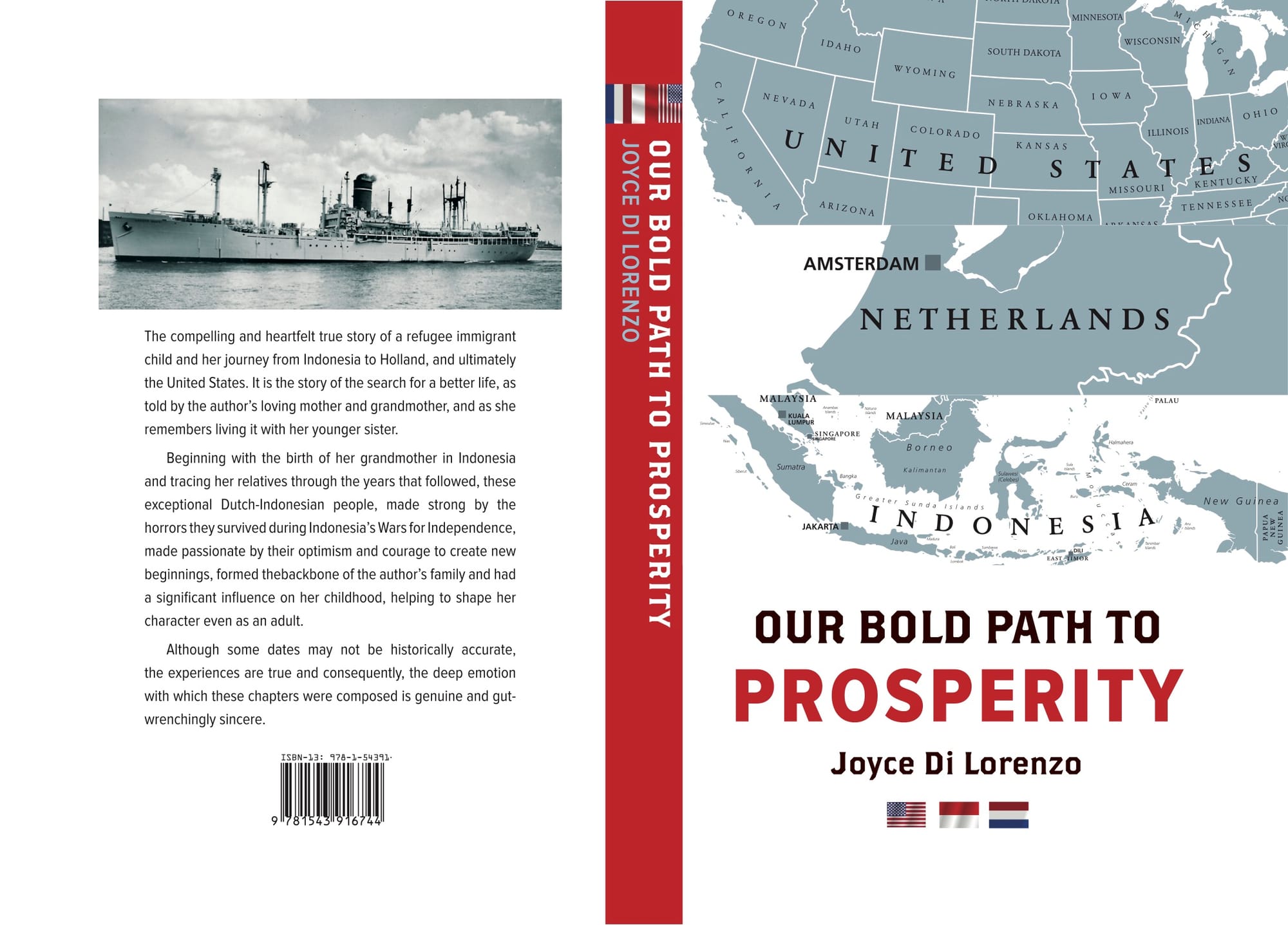 OUR BOLD PATH TO PROSPERITY
This is the compelling true story of my life as a refugee immigrant child from Indonesia to Holland; a tiny country on the continent of Europe and ultimately to the United States; a world power country on the continent of North America. It is the story of our search for a better life, as told by my loving mother and grandmother while I was growing up and as I remember living it with my younger sister. Although the dates sometimes may not be historically accurate, the experiences are true and consequently, the deep emotion with which I composed each chapter is genuine and gut wrenchingly heartfelt.
The story begins with my grandmother who was born to Muslim parents on May 1, 1910, in Banjuwangi; a port city located near the Bali Strait on Java; the fourth largest island of Indonesia, the heart of the nation. Boasting a dazzling array of bewitching landscapes, magical archaeological sites, iridescent rice paddies, smoking volcanoes and rainforests, it is an island of mesmerizing natural beauty with profound traditions in art, music, dance, and cuisine. My grandmother was at a young age when her parents divorced and her mother re-married a Christian man who adopted her. The family moved to the tropical jungle island of Borneo; the third largest island in the world, where the pace of life was relaxed and natural.
At the age of sixteen, my grandmother married my grandfather, they bore three children. Their oldest daughter was born in September 1927, in Singkawang; known as the "City of a Thousand Temples" for the many temples found in the city and it's surroundings. After the birth of their daughter, the family returned to Java, where my mother was born in the city of Banjuwangi, in April 1929, followed by the birth of my uncle, two years later.
My father was born in 1924, in the city of Djombang, Java; near the birthplace of my mother.
These exceptional Dutch-Indonesian people, made strong by the horrors they survived during Indonesia's Wars for Independence, made passionate by their optimism and courage to create new beginnings, were the backbone of my family and accordingly, the significant influence of my childhood, which shaped my character as an adult.
I was born in January 1951, on the island of Java, in the village of Surabaya. After the Indonesian National Revolution, which followed World War II, my family, forced to leave independent Indonesia, repatriated to the Netherlands. I was a baby when we made the month-long voyage to the Port of Rotterdam on a refugee ship called the Groote Beer; the Great Bear.
Throughout my life, I shared my heart and soul with my younger sister; Ellen. From the day she took her first breath, we were kindred spirits. When I was five, my parents divorced, consequently, my sister and I were raised by our mother and grandmother. At the age of ten, our family immigrated to the United States to chase the American Dream. By coincidence, it was also the Groote Beer that crossed the Atlantic Ocean and brought us to New York. I will never forget the day when our ship entered the harbor and we sailed past the Statue of Liberty; the global symbol of hope and freedom. Even in my young life, I knew that when the tugboats safely guided our ship to the harbor; our point of entry into the Land of Opportunity, it was a powerful and emotional moment.
Our mother, then just barely in her thirties, aspired for something better for her children, her mother, and herself. Through grit, determination and force of will, she strove to give us a divine childhood while shaping our character, teaching us how to choose wisely and recognize that in life every choice will create either an opportunity or an obstacle. Instead of sheltering her daughters from struggles, my mother encouraged us to be bold by taking healthy risks and facing challenges. By example, she taught us that steady work achieves dreams, that putting others before self has great benefits and that staying optimistic is key. Our grandmother taught us to be endlessly optimistic by not looking at those who are worse off. "There is no bottom to that," she would say. "Instead, look at those who are better off and find a way to get there."
My sister and I are their legacy, we are the women we are as a result of my mother and grandmother leading the way on Our Bold Path to Prosperity.
BUY NOW: https://www.amazon.com/Bold-Path-Prosperity-Joyce-DiLorenzo-ebook/dp/B077PLRDJ4/ref=sr_1_1?s=books&ie=UTF8&qid=1511579077&sr=1-1&keywords=Our+Bold+Path+to+Prosperity

Reviewed by Ruffina Oserio for Readers' Favorite
Our Bold Path to Prosperity by Joyce DiLorenzo is a moving autobiography that explores the life of an immigrant and what it means to survive and succeed in foreign lands. The protagonist shares a story that allows readers deep insights into the culture and history of Indonesia following WWII, the challenges of moving to another country, and what it meant to finally settle in the US. Born to Indonesian-Dutch parents, the protagonist's family moved from Indonesia to Holland just after the Revolution in search of a better lifestyle, but the divorce left the children alone under the care of their mother and grandmother. Follow their story as they move to the United States, pursuing greener pastures and how, through determination and relentless toil, they were able to prosper.

This is a gritty autobiography, beautifully written and filled with insightful passages. Readers will encounter strong women in this story, including the grandmother of the protagonist, her mother and her sister. We look at these great women as they deal with life-changing moments, including divorce, immigration challenges, and embracing a new culture. It is also interesting how these women could transform their obstacles into opportunities, taking calculated risks without fear and trusting in life. I enjoyed reading about Joyce DiLorenzo's mother, a woman who is determined to succeed and who instills in her children the lessons she's learned herself, teaching them to fight for the things they value. Our Bold Path to Prosperity is told in a very candid and powerful voice and the prose flows gracefully. I enjoyed the author's gift for description and the ability to create scenes that are deeply emotional, focused, and that grab the reader's attention. This is a delightful and inspiring tale that shares what it means to be an immigrant.